Okanagan wines fly for free with Pacific Coastal Airlines.
June 1st, 2016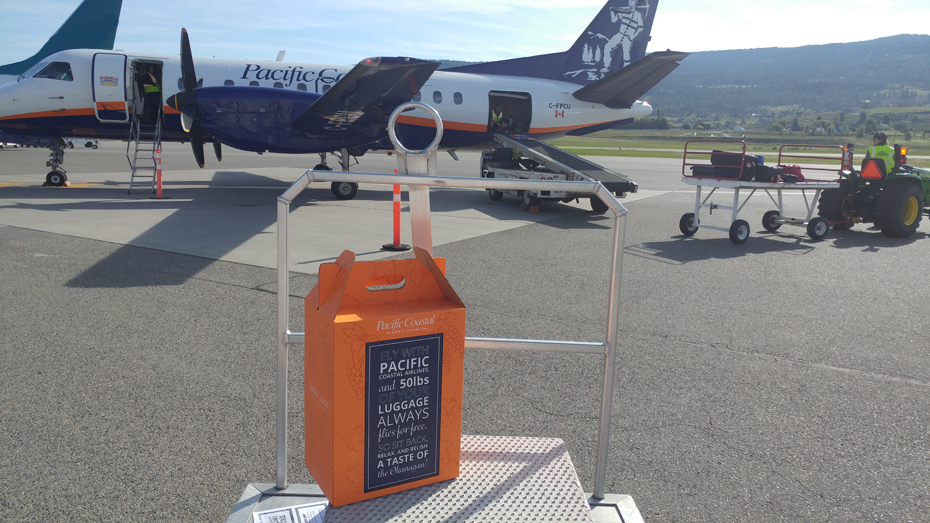 Sip, Savour, and Fly
(Kelowna, BC) Pacific Coastal Airlines has come up with a novel solution to make it easier for its customers to transport their wine purchases from its new Kelowna base to Victoria, Cranbrook, and other connections in its regularly scheduled network of more than sixty-five destinations in B.C. – the portable wine box.
Beginning May 31 the airline will be handing out the new lightweight six-pack wine boxes along with discount coupons from featured wineries to customers to encourage them to check out local wineries and to remind people that it is the only airline offering fifty pounds of free checked baggage with every fare purchased.
"I am really excited to launch these wine boxes," says Jenelle Hynes Pacific Coastal Airlines' Business Development & Customer Service Manager, Okanagan Kootenay Region. "It provides an easy solution for customers coming up for wine tours while showing our support of the local wine industry."
The boxes have a convenient carrying handle and are branded with the Pacific Coastal Airlines' logo along with the three participating partner wineries – the Vibrant Vine, House of Rose, and The View.
"This is a unique program with our wineries and Pacific Coastal," says Wyn Lewis, Proprietor of Vibrant Vine Winery. "It's a great way to promote our wineries and the Okanagan wine in general to the BC region and to travelers from outside the province as well."
Jennifer Molgat, President of The View Winery, is excited to host Pacific Coastal customers at her family's fifth generation estate.  "We often hear travellers say they are sad they can't purchase as much wine as they'd like because it is awkward and expensive for them to take on their flight home.  Now Pacific Coastal is making it easy and affordable for guests to take their favourite tastes of the Okanagan back home with them!  We are kicking up our heels to be a part of this great promotion."
"Partnering with the Vibrant Vine, the View and House of Rose was easy," says Hynes.  They are all B.C. based, family owned and operated businesses just like us and they are keen to think outside the box for innovative ways to promote their products to new audiences."
For more information on Pacific Coastal Airlines and its flights visit www.pacificcoastal.com
BACKGROUND
About Pacific Coastal Airlines
Pacific Coastal Airlines has been providing regularly scheduled, charter, and cargo services in British Columbia for more than forty years. Started in Bella Coola by one-time truck logger Daryl Smith, it is now the sixth-largest airline operating at YVR (based on outbound seats), and third-largest in take-offs and landings and provides  regular schedule, charter, and cargo services to 15 airports with connections to 65+ destinations in British Columbia .
Since November 18, 2013 daily flights (except Saturday) are offered between Kelowna and Cranbrook and on November 23, 2015 twice daily service between Victoria and Kelowna was launched.
Baggage Allowance
Checked baggage allowance is limited to 50 lbs (23 Kgs) per fare-paying passenger. Passengers are not restricted as to the number of pieces being checked, so long as the total weight does not exceed 50 lbs. Luggage over the 50 pound allowance is subject to our excess baggage rates (approximately $0.95/pound after the initial 50 pounds). Click here more information on our baggage allowance.
Winery Partners on this project:
Media Contact:
Jenelle Hynes
Business Development & Customer Service Manger
Okanagan Kootenay Region
Pacific Coastal Airlines
Jenelle.hynes@pacificcoastal.com
250-868-8775 cell