YVR Shuttle Service
Please note that effective Wednesday, September 30, 2020, the YVR South Terminal shuttle resumed operations.
YVR will be operating their hybrid buses and the addition of a new stop at the floatplane dock. The service will run every 30 minutes and updates can be found on YVR's website.
The full schedule is available at the pick-up locations. The pick-up times vary by day with a frequency of every 30 minutes. The stops include the International Terminal, Domestic Terminal, South Terminal and Float Plane Dock.
At YVR's Main Terminal, there are two shuttle pick-up areas:
The International Terminal pick-up is on Level 3, adjacent to the US transborder check-in area
The Domestic Terminal pick-up area is on Level 3, adjacent to the Domestic check-in area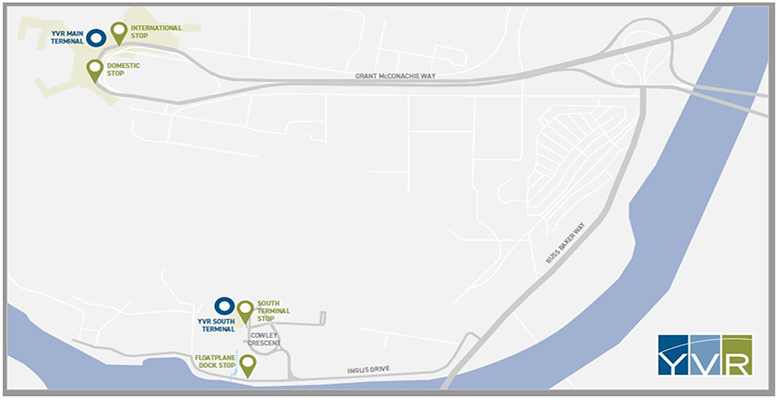 To ensure the health and safety of all customers, YVR will be adding a number of COVID-19 measures including:
50% capacity to ensure adequate space for physical distancing
Asking that face coverings be worn at all times while on the bus
Plexiglass between the driver and customers as an additional layer of prevention
Hand sanitizer available at the shuttle stops
The bus is wheelchair accessible