Community Support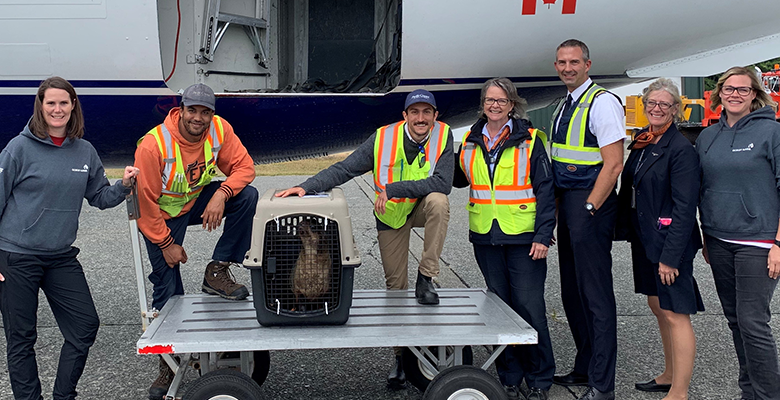 We believe in good corporate citizenship and Pacific Coastal Airlines is pleased to support charities and non-profit organizations in the communities we serve.
Through our Community Sharing program we support families in need within our network each Christmas and provide gift certificates for utilities, food, warm clothes, household items and gifts from Santa for the children. This is made possible by internal fundraisers by staff. In 2018, this effort totalled over $13,000 and all donations are evenly distributed among the families we sponsor.
Pacific Coastal Airlines provides air travel for Special Olympics BC athletes, coaches and volunteers to attend events all over B.C. and helps with ongoing fundraising efforts throughout the year. In January 2019, we celebrated our 20-year partnership with SOBC and are a proud member of the Special Olympics BC Hall of Fame.
On May 30th, 2019 PCA's 27th Annual Memorial Charity Golf Tournament was held and net proceeds went to support the Source Club of Powell River, a non-profit society that provides educational and life skills to persons suffering from mental illness, the Native Education College (NEC) in Vancouver, and the Burnaby Firefighters Charitable Society. We raised over $70,000 thanks to sponsors and players.
PCA also provides complimentary cargo service to selected animal-welfare organizations. We have donated flights worth more than $32,000 to the BC SPCA. These flights allow animals to receive urgent medical care and gives animals their best chance of adoption by moving them to shelters in more populated areas.
Charitable Donations
In 2018, we contributed approximately $544,000 in goods and services to charitable fundraisers throughout British Columbia.
We support charities and not-for-profit organizations in the communities we serve through our Community Support program with an in-kind (non-cash) gift of a donation flight voucher.
Giving Guidelines:
Pacific Coastal Airlines is pleased to review donation requests that support a community as a whole. Please fill in the below form at least 4 weeks in advance of your event and we'll be in touch as soon as we can. No phone calls, mailed-in requests or follow-ups please.
Due to the volume of requests received each month, and a limited budget, we regret that we cannot say yes to every request. Please review the following list of organizations, programs and requests that would be considered ineligible for a donation:
Financial support or cash donations
Political organizations or events
Individuals seeking assistance for personal travel or sponsorship
Third-party fundraising events without endorsement from the benefiting organization
Religious organizations or events, unless they are engaged in a significant project benefiting an entire community
Organizations or events taking place outside of Pacific Coastal Airlines network
Individuals or groups seeking donated or sponsored travel to conferences,

school trips

, training or learning programs, humanitarian trips, reunions/anniversaries, contests or competitions. For information about our group and charter travel, please visit our group page or our charter page.