SOAR – Current Issue
Soar Magazine | December-January 2020/21 Edition
Click here to view our latest edition of SOAR Magazine.
Download and save to your reading list to view on your next flight with us!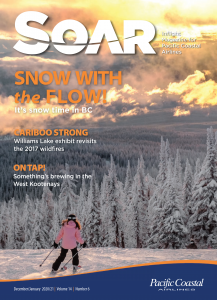 Due to COVID-19, we have currently suspended the offering of our in-flight magazine to help reduce any unnecessary contact. Moving forward, you can expect to receive SOAR magazine as a digital publication that can be viewed on our website or your personal mobile device. Sign-up for our newsletter, SOARplus to receive the latest editions in your inbox!
SOAR is Pacific Coastal's in-flight magazine published by Black Press. For advertising please contact Annemarie Rindt, Advertising Special Projects, at 250.480.3244 or arindt@blackpress.ca.